Best Value Human Resource Master's Programs for 2018-19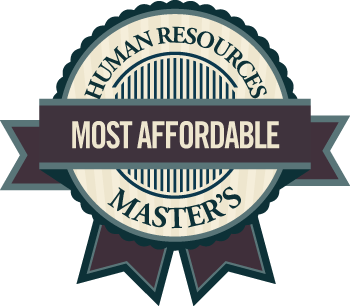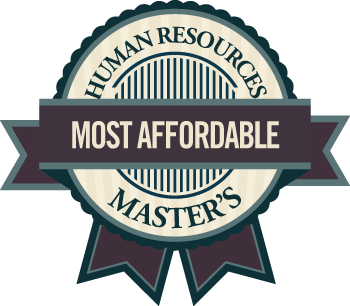 Working in human resources, you know better than anyone what the salary ranges and the promotion ladder in your industry looks like. HR jobs feature in every sector at every type and size of business.
It's a profession that can be extremely lucrative and secure, and a master's degree can make it even more so. With a master's in hand from the right school, you can climb that ladder to the very top rungs. But that's not to say that money is no object when it comes to the price tag on that master's degree.
You always want to get into the best possible program you can find… but you also want to make sure you are only looking at programs that will pay off for you in the long run without leaving you saddled in student debt. We've all heard the stories about grad students going deep into debt and spending literally half their careers paying off student loans – and the interest on those loans.
Price and quality are both very important factors to consider when it comes to selecting a human resources master's degree program. And if you got a mind for HR work, then you're someone who already thinks in terms of budgets and how to get the most for every dollar spent. It's as true when putting together a compensation package for a new employee joining the company as it is when finding a master's program that comes with all the benefits you're looking for without costing you a fortune.
How We Put This List Together: Affordability + Quality = Value
The equation is simple enough, but reviewing all top-quality programs and isolating the ones with the lowest cost in each state took some doing.
SHRM-Aligned Curriculum
What you're looking for is an exceptional value: All the benefits of name-recognition and curriculum aligned with SHRM guidelines anda tuition rate you can afford.
Chances are if you've gotten this far in your search for a master's program, you're already very familiar with the Society for Human Resource Management. And if you know about SHRM and you care about quality in your master's program, then you've already narrowed down your list of options to just those programs that have gone through the effort of aligning their curriculum with these standards.
From curriculum to faculty to making important connections in the healthcare industry, nothing offers the assurance of quality and name-recognition like a master's program aligned with SHRM curriculum guidelines. Since value is our top concern, that's where we started. Every degree featured here is first and foremost a top-quality program that has received the SHRM stamp of approval.
A Careful Review of Pricing
We then began the process of isolating the lowest cost programs and identifying other important considerations.
We've done the hard work for you here of determining the per-credit tuition costs for every program. With programs offering so many different scheduling options, from traditional full-time and accelerated options to part-time asynchronous options and executive programs that meet just once weekly, looking at the cost-per-credit allows for the best apples-to-apples price comparison available.
We include in-state and out-of-state tuition costs, as well as other important considerations that might result in an even more reduced rate on these already affordably priced programs. This included things like different costs for online program versions, and veteran's discounts.
But just as important when value is what you're after, are the high points and unique features of each program, whether it's online flex courses or special electives you'll find nowhere else. Do they have an accelerated option that gets you your degree sooner? We let you know. Great options for capstone projects or internship opportunities? We made a note. Is the program highly ranked by a reliable third party? You'll see it here.
Considering the Difference in Cost for Public vs Private Colleges
There are obvious pricing benefits for both state schools and private universities. You can almost always be sure the residential rate for a public college is going to make going to a state school in your area less expensive than a private university… but if the program that offers everything you want isn't located within driving distance or if you're an international student coming from overseas, you may very well find that private universities offer pricing that is very competitive with non-resident rates found at public colleges, and are sometimes even lower.
It only made sense, then, to include the best priced state school and the best priced private university in each state when both options were available.
Best Priced SHRM-Aligned HR Master's Programs in Each State
We brought all of this information together in one place so you can easily scan this list for the program in each state that offers the best bang for your tuition buck.
So if you're looking for the right program to meet your particular needs and goals without breaking the bank, look no further. You'll find it somewhere on this list!
---
---