Top 100% Online HR Master's with No GRE/GMAT Requirement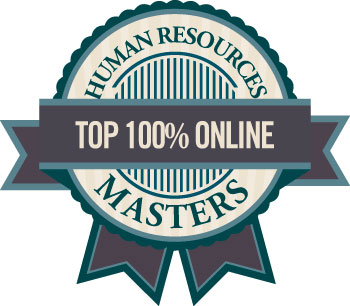 Getting to the top of the ladder in human resources is about more than just hard work and skill. Education and knowledge are also important pieces of the puzzle. That's why you're looking at a master's degree program in HR… something that gives you all the tools you need to get to the top of the field.
You already know that not all master's degree programs are created equal. Not only are some of them simply objectively better in terms of what they offer for the money, but there are dozens more subjective factors that can influence your education experience.
Master's programs are aimed at working professionals, so it stands to reason that the most accessible option out there for anybody with a day job are the ones offered completely online. If you're already putting in a full 8 hours at the office every day, the last thing you want to do is saddle up and truck yourself off to a classroom on the other side of town to listen to a lecture in a room full of students who are also at their energetic-low-point for the day.
<!- mfunc search_box_body ->
<!- /mfunc search_box_body ->
<!- mfunc feat_school ->
Online programs allow you to avoid that quandary entirely. You can time-shift the lecture and study material to take it in when you have the time and energy to get the most out of it. You can do your homework when it's convenient—on your lunch hour, the train on the way home, over the weekend, or in front of the TV in the evening. You can even keep up asynchronously, interacting over email and online whiteboard systems with instructors and classmates.
Your First Big Hiring Decision Is Hiring Who Will Educate You
Because you're going into HR, you can expect to be making a lot of hiring decisions throughout the course of your career. It might sounds a little ridiculous at first, but think about it – it actually makes all the sense in the world to think of choosing your master's program as being your first and most important hire.
This is an interview process for you as much as it is for the school you apply to. And like any interview, you don't want to walk in unprepared. You want to see the resume first. You want a chance to pick through the details of the program you're prospecting, check out its accomplishments and how it lays it all out for you.
What you don't want to do is waste time on the sub-par candidates. You want to look at only the top choices from a list of programs that have been selected for offering exceptional quality and value, while still offering the convenience of being delivered completely online.
How We Selected The HRM Master's Programs We Think Are Best
Every job has requirements, and the program that will be doing the job of providing you with a graduate degree in HR is no different. Of course, you're going to have your own ideas about exactly what you want, and that's perfectly normal. But there are some minimum criteria that need to be filled before you even start the interview.
SHRM-Aligned Curriculum
We started by throwing out any school that doesn't have an SHRM-aligned curriculum. The Society for Human Resource Management is the world's largest professional human resources professional association and the ultimate standards bearer for quality education in the field of HRM.
Human resource management education today needs to be presented in the context of business to make sure graduates are ready for the demands that will be placed on them. That's why SHRM's curriculum guidelines are all about developing programs that teach key HRM concepts in the context of business. In fact, SHRM's curriculum standards are fully endorsed by the Association to Advance Collegiate Schools of Business (AACSB) and its global network of more than 1,500 business schools. You better believe SHRM and AACSB know exactly what it is you need to know as a high-level human resources management professional.
SHRM's in-depth curriculum guide essentially serves as a step-by-step manual that business schools use to make sure students graduate with everything they need to effectively manage all aspects of HR, while also serving the broader business needs of the organizations they work for.
Any master's program that doesn't do this isn't qualified for the job of providing you with your graduate degree.
Other Factors We Know Matter to You
Naturally, every single program here has been accredited by a reputable accreditation agency recognized by the Department of Education, some even have specialty business accreditation specifically for the HRM program. The job of accreditation agencies is to make sure everything is on the up and up when it comes to things like general academic standards, faculty hiring and tenure grants, and making sure general curriculum is regularly updated.
Our job was to look at a variety of other important factors we know speak to how the program provides students with a great learning experience. Some of things we considered were:
Stand-out professors, faculty and guest lecturers
Corporate partnership programs with top companies and close ties to the business community to facilitate internships
Outstanding technology for delivering online coursework
Student associations that foster networking and allow for meaningful connections and contributions
Offering an exceptional value; not the cheapest, but the best for the money
Awards and recognitions the program or department may have earned over the years
We also went out of our way to look for the X-factor… that little something extra that you can't always put down on a form, but that you know instantly when you see it. It's not always the same thing for every school, and not every school has one… But every once in a while, we see something that makes us sit up and go "Wow!" and you can be sure that every one of those schools made the list.
And, of course, with convenience and accessibility in mind, our hand-picked selection of programs are all offered completely online and none of them require GRE or GMAT entrance exams.
<!- mfunc search_btn -> <!- /mfunc search_btn ->
Our Favorite 100% Online HR Master's Programs with NO GRE or GMAT Requirements
---
This list features programs that our editorial staff hand selected to present as top recommendations. We believe the many aspects of a program that come together to create an exceptional student experience can't be reduced to numbers alone, so no formula was used to attempt to score or rank these programs. Instead, they represent our top picks based on a thoughtful review of the things we know mean the most to students. Each one of these programs offers something unique, and all come equally highly recommended. We stand behind the principal of editorial integrity and make these recommendations independently and without compensation.
---