Top Online Bachelor's Programs in Human Resources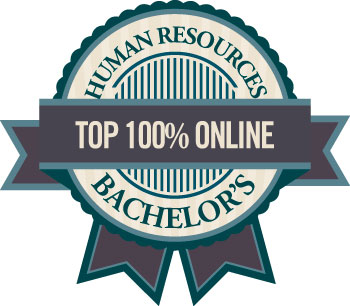 The tricky thing about human resources in general is that it's an extremely subjective field. As an HR professional, you will quickly learn that every situation, every employee, has to be assessed and assisted individually. There are no effective one-size-fits-all approaches when it comes to managing staff.
At the same time, fairness and equitability are paramount. While the strengths, weaknesses, and preferences of every individual have to be analyzed and respected, you also still need to be able to assess people in comparison to others—and to ultimately choose the best fit for each position, which can sometimes mean filtering through hundreds of applicants.
Balancing those demands is the core of what it means to be excellent at human resources.
And that, in a nutshell, also sums up the challenge of evaluating online bachelor's degree programs in human resources.
We've taken on that challenge, though, and we hope you find that we've followed that fine line between honoring each school for its unique and individual strengths while still making choices that put the top selection for each state rightfully in its place.
<!- mfunc search_box_body ->
<!- /mfunc search_box_body -> <!- mfunc feat_school ->
How Each School Made The List
First, we started by looking only at programs with undergraduate curriculum aligned with Society for Human Resource Management (SHRM) Curriculum Standards, as outlined in their Guidebook and Templates for Undergraduate and Graduate Programs. Reviewing and choosing our favorites from this elite class of programs ensured we truly selected the best of best.
We then went through each of the nearly 240 schools offering HR bachelor's programs with SHRM-aligned curriculum available in the U.S. individually… no algorithms, no checklists, nothing beyond a warm, rational human eye checking out their unique strengths. We took in things like:
We wrapped all those elements together and weighed them against one another to come up with a list of exactly what you're looking for: the best online HR program at the right cost.
In making our selections, we put special emphasis on two other factors that come through the combination of all of the above:
The Human Touch
Something you want to look for in HR programs is their ability to convey that special knack of developing graduates who can connect with employees on a human level. HR departments don't want faceless robots staffing their desks—the human touch is everything in human resources.
It's especially difficult to teach that type of skill online, where human interactions are necessarily limited. Without the face-to-face interaction that is built in to the traditional classroom experience, professors can have a tough time teaching and assessing that special combination of professionalism, warmth, and competency that make for a great HR professional.
So we looked for programs that do the best job of keeping the humanity in human resources. Those that made extra efforts to keep online students connected to both faculty and their cohorts got a leg up in our assessments.
The Online Element
Good online learning software (combined into an LMS, or Learning Management System) was also a key factor. The right kind of LMS can help facilitate interaction and make learning effortless; the wrong kind creates constant headaches and confusion.
Because of the extra difficulty in keeping the human touch present in online HR classes, LMS systems that allow professors and other students to stay connected are paramount. Every school that ended up on our list has cracked the problem of putting together easy-to-use, highly interconnected LMS programs that will make you forget you're not sitting in a classroom with a bunch of other earnest and qualified undergraduates.
<!- mfunc search_btn -> <!- /mfunc search_btn ->
Our Favorite Online HR Bachelor's Degree Programs
With that combination of strengths, you won't go wrong with any of the online human resources bachelor degree programs listed below.
---
This list features programs that our editorial staff hand selected to present as top recommendations. We believe the many aspects of a program that come together to create an exceptional student experience can't be reduced to numbers alone, so no formula was used to attempt to score or rank these programs. Instead, they represent our top picks based on a thoughtful review of the things we know mean the most to students. Each one of these programs offers something unique, and all come equally highly recommended. We stand behind the principal of editorial integrity and make these recommendations independently and without compensation.
---